BIN95 Industrial Power Transformer Training Course
Course features
Don Fitchett

Level: Beginner to Expert

Study time: 1.5 hours
Course overview
This Transformer Training is a comprehensive online industrial power transformer training course. The online industrial power transformer training certificate course is the best online transformer training deal you can get, as it never expires, 24/7 access worldwide. This training module is designed to familiarize students from beginners to experts with understanding the essential elements of the many types of electrical transformers. This certificate course is a must for those seeking electrician courses and those seeking electrical engineering course
Course Outline

Power Transformer Basics

Electrical Transformer Components

How Does a Transformer Work?

Single and Three Phase Transformers Explained

Dry Type Transformers

Liquid Filled Transformers

Miscellaneous Transformers

Transformers Voltages. Cooling Classes, Ratings, Calculations

How to read Transformer Nameplates

New Transformer Cooling Classes

Transformer Temperature Rise

Transformer Cooling Ratings

Transformer Selection Factors
Become a Strategist
Also covered in this online transformer certificate course are transformer taps, transformer standards (IEEE), Delta vs Wye, series and parallel windings, short circuit protection, and much more. Transformer types covered are general purpose, dry, open core, and coils, K factor, HMT, NEMA TP-1, motor drive isolation transformers, compartmental transformers, pole mounted transformers, etc. Maintenance of liquid-type transformers is also covered.
Earn Your Certificate
Certification included.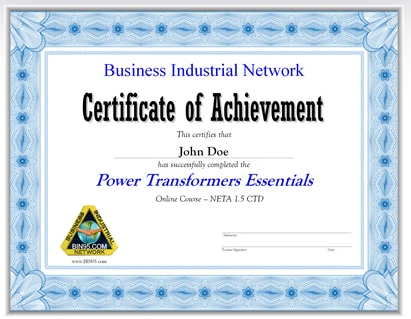 Meet the instructor
Patrick Jones
Patrick Jones is a content marketing professional since 2002. He has a Masters Degree in Digital Marketing and a Bachelors in Education and has been teaching marketing strategies for over 15 years in Chicago. Patrick enjoys teaching all levels and all ages. He looks forward to sharing his love of building meaningful and effective content with all students to develop their marketing abilities.