BIN95 Variable Frequency Drives Course
Course features
Don Fitchett

Level: Beginner to Expert

Study time: 1.5 hours
Course overview
This Variable Frequency Drive Basics is a VFD basic industrial drive training online certificate course. With this electric drive tutorial, you'll learn how a variable speed drive works (VFD drive working principle), and other industrial drive essentials. One of the best VSD motor online courses you can get as it never expires, 24/7 access worldwide. This training module is designed to familiarize students from beginners or experts with the essential VFD types, features, functions, VFD Bypass, and benefits of Variable Frequency Drives. So if you are dealing with a VFD pump, VFD HVAC, motor inverter, or other AC drive control, this course is a great introduction to the essentials.
Course Outline

VFD Basics

Why Variable Frequency Drives

How a VFD functions

Drive Terminology

VFD Types

VFD Manufacturers

Applications and Considerations

VFD drive standards

Characteristics of Protective Relays

Options and Accessories

Bypass history and Types

VFD Bypass Types

VFD Selection Factors
Become a Strategist
This online course also introduces most of the major manufacturers, including the mini and microdrives. Brands mentioned are Emerson drive, ABB VFD, Danfoss drives, Siemens drives, Allen Bradley VFD, Eaton drives, Schneider VFD, Franklin drive, and Square D VFD. Other real-world topics are covered too, like torque, the harmonic drive, networking, the frequency inverter drive, multi-motor operation, PID, PLC, and redundancy.
Earn Your Certificate
Certification included.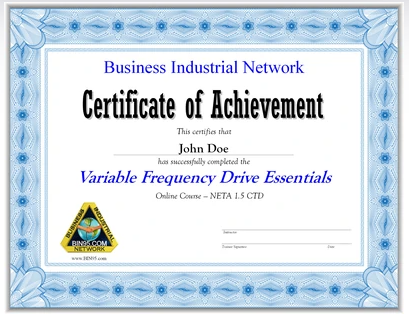 Meet the instructor
Patrick Jones
Patrick Jones is a content marketing professional since 2002. He has a Masters Degree in Digital Marketing and a Bachelors in Education and has been teaching marketing strategies for over 15 years in Chicago. Patrick enjoys teaching all levels and all ages. He looks forward to sharing his love of building meaningful and effective content with all students to develop their marketing abilities.