BIN95 Motor Starter On-line Course
Course features
Don Fitchett

Level: Beginner to Expert

Study time: 1.5 hours
Course overview
This Motor Starters online electrical certificate course covers magnetic contactors, motor starter wiring diagrams, overload definition, MMP, and types of starters. Also explains the basics of electrical NEMA vs IEC standards. Great to supplement JATC apprenticeship training before hands-on contactor wiring diagram start stop circuits. This electrical course never expires, with 24/7 access worldwide.
Course Outline

Manual Motor Starter

Manual Motor Protector (MMP)

Magnetic Motor Starters

Codes and Standards

Motor Starter Components

Line Voltage Vs. Control Voltage

Controlling the Starter

Motor Starter Wiring Diagrams

Enclosed Motor Starters

Applying Different Enclosure Types

Overload Relay Wiring Classes

IEC Vs. NEMA

Motor Starter Selection Factors
Become a Strategist
Learn to use all the related tools, walk into a job and be a rockstar from day one. The skill you need to become a real professional. Learn the tools used by the world's top professionals. Boost your confidence, master the field.
Earn Your Certificate
Certification included.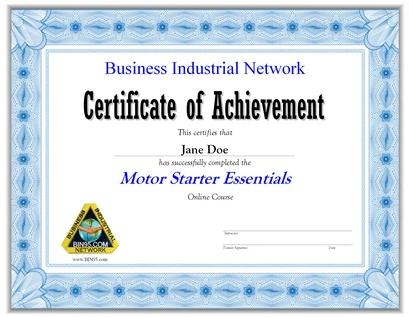 Meet the instructor
Patrick Jones
Patrick Jones is a content marketing professional since 2002. He has a Masters Degree in Digital Marketing and a Bachelors in Education and has been teaching marketing strategies for over 15 years in Chicago. Patrick enjoys teaching all levels and all ages. He looks forward to sharing his love of building meaningful and effective content with all students to develop their marketing abilities.