BIN95 Protective Relay Course
Course features
Don Fitchett

Level: Beginner to Expert

Study time: 1.5 hours
Course overview
This online training module; Protection Relays Basics is a 1.5-hour online training certificate course covering the common applications of overcurrent protection, types of the relay
(interposing relay circuit, differential, potential, overvoltage) including solid state relays and microprocessor based. It also covers power systems, transformer protection, and zone of protection. This training module is designed to familiarize the student whether beginner or expert with the essential features, functions, and benefits of Induction Disc, Solid State, and Microprocessor-Based Protective relays.
Course Outline

Protection Relay Basics

Protective Relay Components

Protection Zones

Protective Types of Relay

Where Protection Relays are applied

Related Relay Terminology

Applications and Considerations

Protection Relay Manufacturers

Characteristics of Protective Relays

IEEE Device Numbers

Current and Voltage Transformer Basics

How Protective Relays Operate

Protective Relay Selection Factors
Become a Strategist
While the most common application is the over-current protection relay, transformer protection and other power system protection applications are also very common. For example, protection relays are used in substations. So just as motor protection relay is common, so are phase monitoring relay applications. Those new to this subject may be reminded there is also the under voltage relay, the generator protection relay, etc. that offer much more protection than just a breaker would do. Monitoring current, voltage, phase, temperature, differential, etc., Especially the solid state relays and microprocessor relays with complex time current curves (trip curves) and combinations of monitoring power.
Earn Your Certificate
Certification included.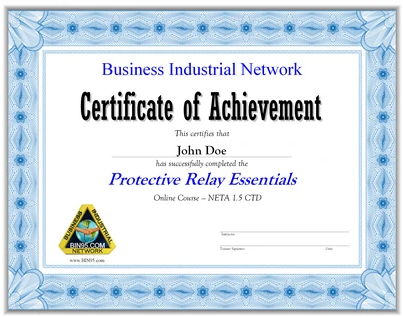 Meet the instructor
Patrick Jones
Patrick Jones is a content marketing professional since 2002. He has a Masters Degree in Digital Marketing and a Bachelors in Education and has been teaching marketing strategies for over 15 years in Chicago. Patrick enjoys teaching all levels and all ages. He looks forward to sharing his love of building meaningful and effective content with all students to develop their marketing abilities.